About us
Main activities of Department of Dielectrics cover experimental and theoretical investigations of high-permittivity insulators like liquid crystals, ferroelectrics, multiferroics, piezoelectrics, semiconductor nanostructures, and low-loss materials.

Our mission:
Understanding the materials for which the frequency dependence of dielectric function can be probed by capacitance, waveguide or optical techniques. Experimental research in the Department of Dielectrics is mostly based on dielectric, infrared, time-domain THz, Raman and neutron spectroscopy, but also calorimetry, nonlinear optics and scanning probe microscopy measurements. The information on the core research activities organized within our six principal research groups can be accessed through the following links:
The most significant fresh scientific results of our deparment are listed in the section Highlights.
Oncoming seminars & workshops
06.12.2022 10:00
, Na Slovance 2, main lecture hall
Introduction to topology in the electronic structure of crystalline solids - lecture 4
Tomáš Rauch
Institute of Condensed Matter Theory and Optics, Friedrich-Schiller-University Jena, Germany
(show abstract)
Most of us have probably already heard terms like "topological insulator", "Weyl semimetal", "Berry curvature", "robust surface states", "nodal-line", and others in some talk or read them in a publication. Possibly, not everyone is familiar with this field, even though it became very present in the solid state research in the last years. In this seminar series, I will give an introduction into the topic, try to explain the most important concepts and show where could topological materials be useful.
(hide abstract)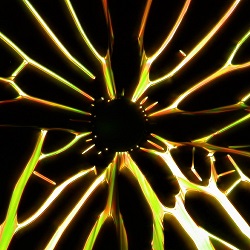 21.11.2022
Award
Best three places in the FZU Photo Competition 2022 taken by our department
Alexey Bubnov won the FZU Photo Competition 2022. by his beautiful image of liquid crystal texture.
Manas Ranjan Parida received the 2nd place for his SEM image of V2O5 nanoflower,
Fedir Borodavka & Vladimir Pushkarev got the 3rd place for their artistic picture of a superlattice roll.
(show more)
Best photos from Department of Dielectrics placed in top ten of the FZU Photo Competition 2022: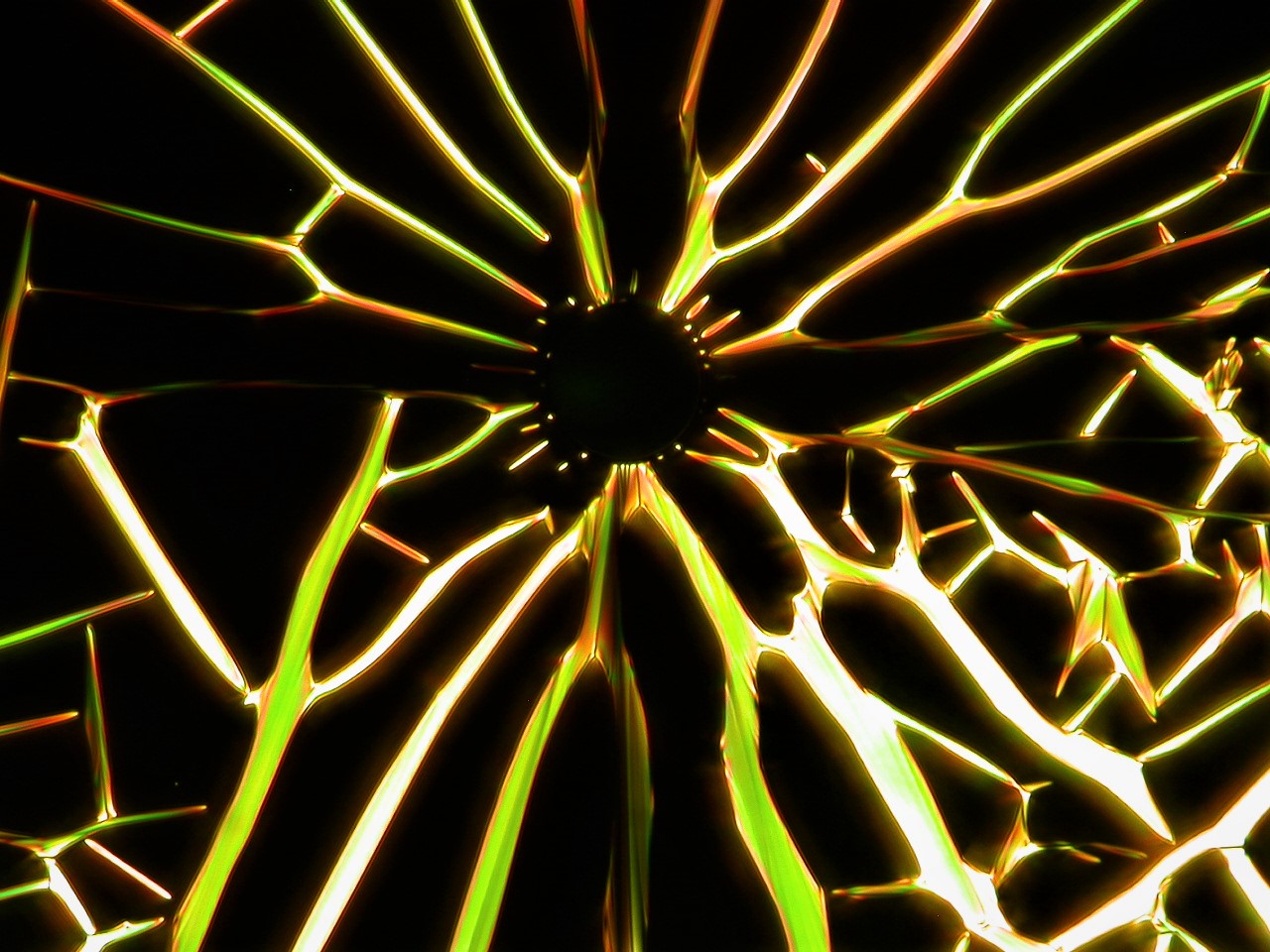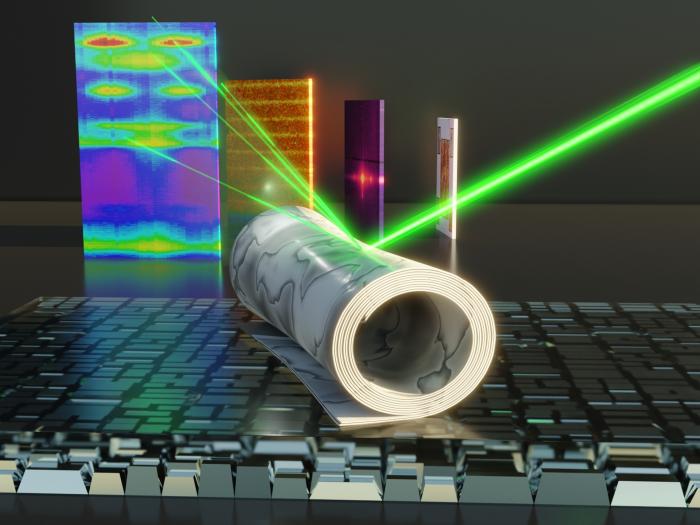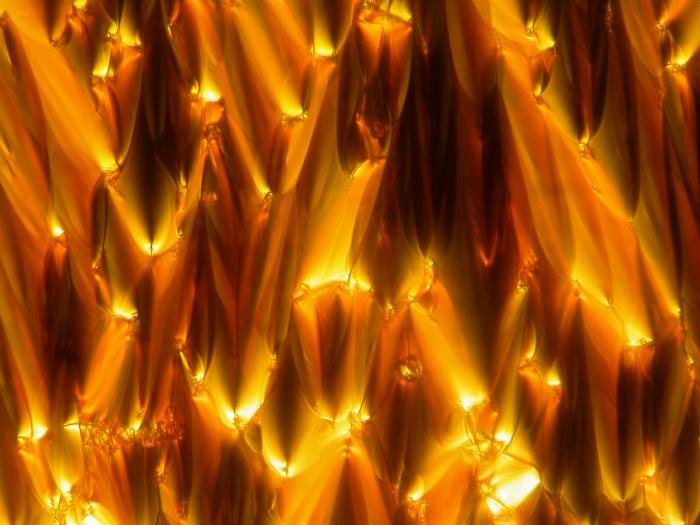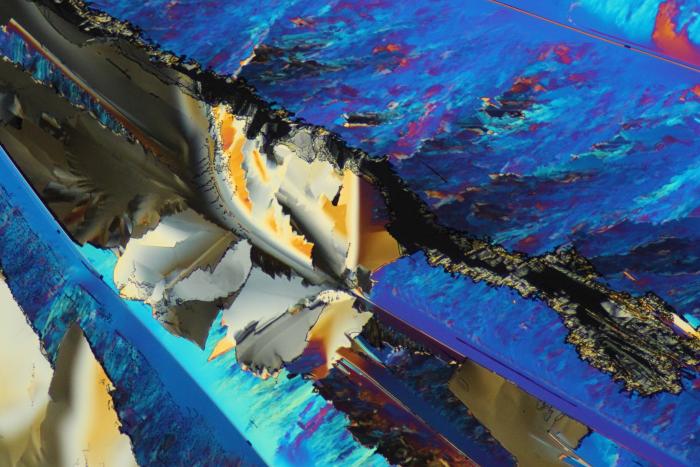 (show less)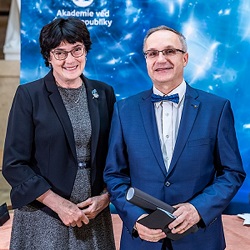 05.10.2022
New Research Professor in Department of Dielectrics
We are happy to announce that Stanislav Kamba has received the Research Professor degree for his outstanding and o riginal scientific work in condensed matter physics, presented in his dissertation: Soft-mode spectroscopy of ferroelectrics and multiferroics.
(show more)
Stanislav Kamba is a world-wide known expert in the field of high-frequency dielectric spectroscopy, especially in studies of soft phonons in ferroelectric and multiferroic materials. He made a fundamental contribution to understanding of the properties of hydrogen-bonded ferroelectrics, lead-based relaxor materials, and the mechanism of phase transitions in multiferroic materials. His dissertation, titled: Soft-mode spectroscopy of ferroelectrics and multiferroics, presents results which are outcomes of his research done and/or led by him in the Department of Dielectrics for the last 25 years.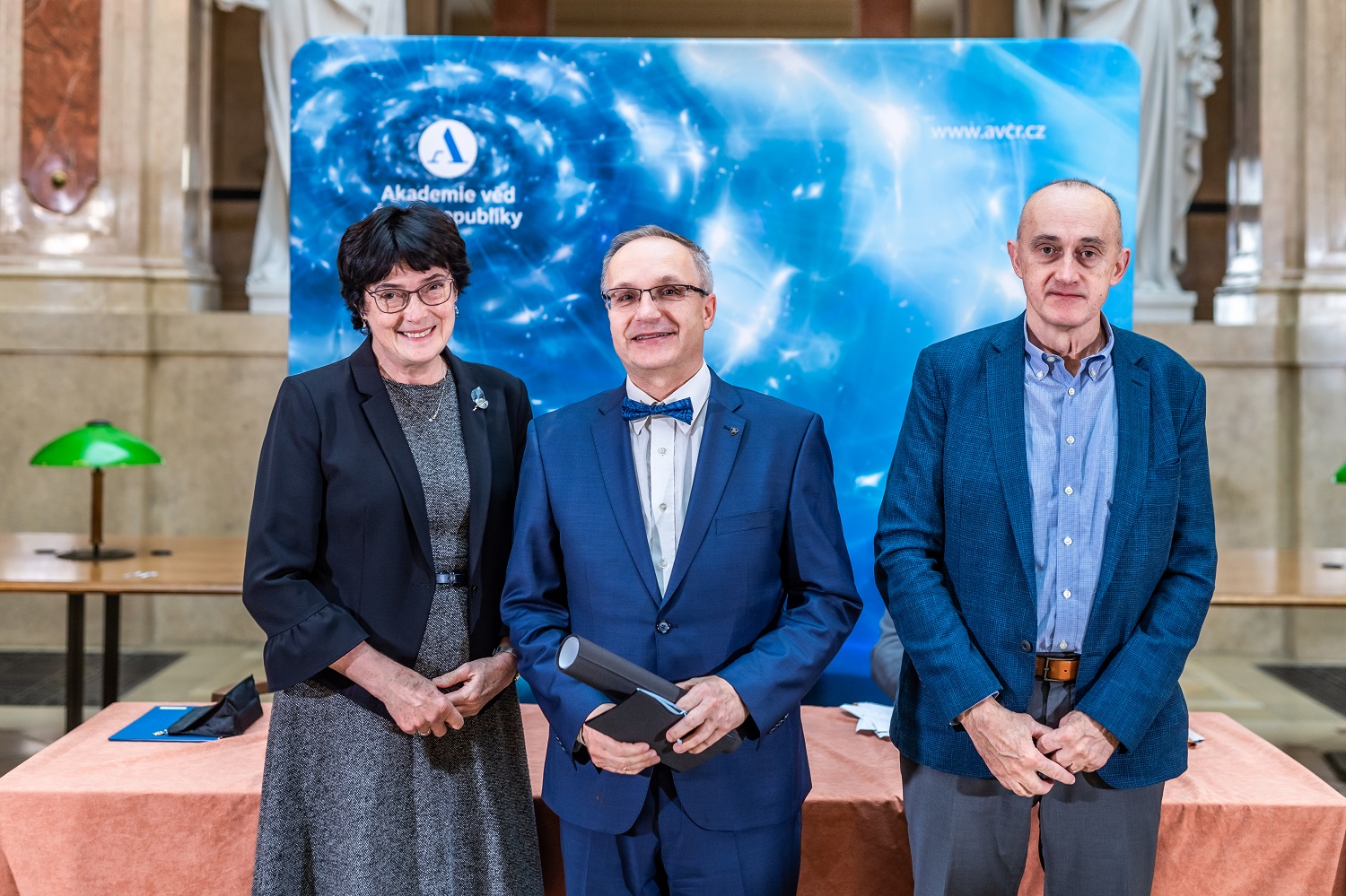 About the degree Research Professor:
The scientific degree "Research Professor" (abbreviated as Res. Prof. or DSc.) was established by a resolution of the twenty-first session of the Academy Assembly convened on December 18, 2002. The Academy awards the scientific degree of Research Professor to scientists in recognition of their outstanding and original scientific work, contributing to the advancement of research in a specific scientific field and characterizing the awardee as a scientist of recognizing stature.
(see more details)
(show less)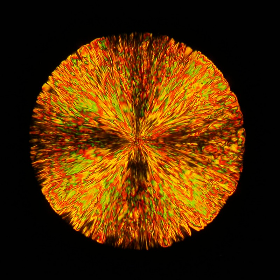 26.08.2022
Open Science internships at the Institute of Physics open doors to universities worldwide
In 2018, a secondary school student, Nela Sedláčková has undertaken a one-year Open Science internship under supervision of Alexej Bubnov. At present, she is enjoying the studies of Physics at University of St Andrews supported by The Kellner Family Foundation and says: "I am convinced that the Open Science played the key role in my admittance to university in abroad".
(show more)
English translation of the full article from the Open Science website:
Nela Sedláčková dreamed to devote herself to science already at high school. She was therefore interested in the possibility of attending Open Science internships at the Czech Academy of Sciences. At that time, she wanted to extend the knowledge and prepare herself for entering a foreign university. Nela successfully entered and completed a highly competitive internship under supervision of Alexej Bubnov in 2018, in the Liquid Crystal group of the Department of Dielectrics, where she studied novel liquid crystalline materials used most frequently in the LCD displays.
How do you remember the Open Science internship?
Thanks to Open Science internship, I had the opportunity to work in a research laboratory, meet international scientists and present the gained results at the Open Science conference. High school students do not usually have access to real scientific environment, and I also referred to my Open Science experience while applying to St Andrews (Note: University of St Andrews in Scotland). I believe that the Open Science internship played a key role in my acceptance to St Andrews as well as to gain the scholarship from The Kellner Family Foundation which financially supports my studies in the UK.
About the Open Science project:
The aim of the Open Science is to provide an access to scientific work for talented students already during their high school studies. Researchers from the Czech Academy of Sciences anually announce
internships
within the framework of the
Open Science
.

More information about the Open Science at the Institute of Physics of the Czech Academy of Sciences:
https://www.fzu.cz/en/popularization/events/open-science
.
How did you actually find out about internships and what made you try out how science is done?
I saw an advertisement of the Open Science project on the Internet and searched through the database of internships. At that time I was in the second year of high school and I was considering to study science at some university abroad. Until then, I had the impression that "real" science was inaccessible to someone who had not yet graduated from college, and the project attracted my attention because it was aimed specifically for the high school students.
How was the internship and cooperation with the supervisor?
The objective of the internship "Study of phase transitions of novel liquid crystals" was to investigate the properties of new liquid crystalline materials, which are nowadays most often used in LCD displays. The supervisor of the internship, Alexej Bubnov, was always willing to answer any of my questions, and our cooperation continues even after the end of the internship. Thanks to him, the results of the internship were published as a regular research article, and I even became a co-author, which does not happen very often for a high school student.
Did the internship help you in choosing your next field of study?
The internship confirmed that I want to study physics with a focus on experiments rather than theory. In the laboratory, I met scientists from abroad and was able to practice and improve my communication skills in English, which, in turn, strengthened my decision to study abroad.
Your dream has come true. So where are you studying now and in which field?
Currently, I study Physics at the University of St Andrews with the support of The Kellner Family Foundation. The studies are very fulfilling for me and living abroad has broadened my horizons. The main difference in the teaching system is in the greater emphasis on independent work and tutorials, which are classes where a small group of students meets with a professor and the students' task is asking questions to the professor. The study at St Andrews has met and exceeded my expectations, even though the last year was greatly affected by covid-related limitations.
Do you think about future career in science?
My curiosity continues to draw me into science and I am most interested in plasma physics. At the moment, I am applying for summer scientific internships and I use my experience from Open Science in my applications.
Scientist and supervisor A. Bubnov about the cooperation with Nela Sedláčková:
Nela Sedláčková is a very hardworking and talented student who did excellent work during and after the Open Science internship. In 2018, she was chosen for a highly competitive internship "Study of phase transitions of new liquid crystalline materials". The internship was carried out in the Liquid Crystal group of the Dielectrics Department at the Institute of Physics of the Czech Academy of Sciences.

The results we gained by Nela during the internship were presented at an international conference (XXIII Czech-Polish seminar - Structural and ferroelectric phase transitions), in the form of a contribution entitled "Self-assembling behavior of new photosensitive cinnamoyl-based monomers aimed for design of smart macromolecular materials", and received a positive feedback from conference participants. After completing the internship, the results were also published in the important international scientific journal Liquid Crystals with a high impact factor (3.6 in 2020 according to Journal Citation Reports): A. Bubnov, M. Cigl, N. Sedláčková, D. Pociecha, Z. Böhmová, V Hamplová, Self-assembling behavior of new functional photosensitive cinnamoyl-based reactive mesogens, Liquid Crystals 47, 2276 (2020). Although the article was published a year ago, it already has 10 citations, which is above the average for this specific field.

I know that Nela Sedláčková is currently a student at the School of Physics and Astronomy, at the University of St Andrews in Great Britain, and that she received a quite prestigious scholarship from the Kellner Family Foundation in 2021. I wish Nela the best of luck. I really hope that one day she will return to the Czech Republic and will work at the Czech Academy of Sciences, which would be of great benefit for us.
authors: Michaela Marková (Open Science) in collaboration with Nela Sedláčková and Alexej Bubnov (Department of Dielectrics)
(show less)
Last update: November 21, 2022 (admin)