Venue
The venue of XXIV Czech–Polish seminar was Harrachov, Czech Republic. The Harrachov town and mountain resort is located at the altitude of 665 m in the Giant Mountains range of the Sudetes (Krkonoše), in the valley of the Mumlava river below the Čertova mountain. The town is located directly at the Czech–Polish border. The town consisting of four parts and villages (Harrachov, Mýtiny, Nový Svět and Rýžoviště) has about 1,300 inhabitants.
The first written reference dates back to the 17th century when German settlers founded a village Dörfl. Harrachov has been known for its glass production which dates back to the 14th century. In 1890s, first pair of skis was imported to the country which started the tradition of winter sports in Harrachov. In 1920, first ski jumping hills were built. The first international skiing championship was organised in 1923. Harrachov still remains a popular skiing resort.
Giant Mountains
The Giant Mountains (Krkonoše in Czech, Karkonosze in Polish, Riesengebirge in German) is a mountain range located in the north of the Czech Republic and the south-west of Poland, part of the Sudetes mountain system (part of the Bohemian Massif). The Czech-Polish border, which divides the historic regions of Bohemia and Silesia, runs along the main ridge. The highest peak Sněžka (1,603 m) is the highest peak in the Czech Republic.
Accommodation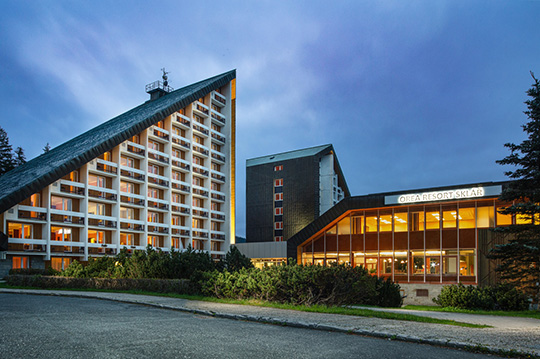 Accommodation was provided in Resort Sklář****, Harrachov 520, 512 46 Czech Republic. The hotel conveniently located close to the town centre offers accommodation in 171 rooms. There is a restaurant and bar, a hotel wellness centre with a heated swimming pool, sauna, steam bath, hot tub and many types of massages available. The resort offers plenty of sport activities. Animated video programs are available for children.